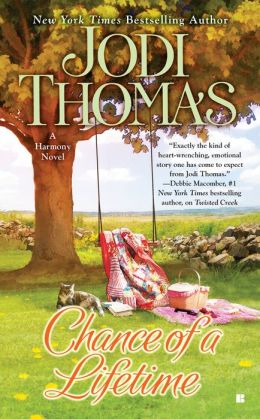 With the start of 2013 comes what I think may be my best book yet. Once in a while I find a story where the characters take off and write the book. With a young lawyer who thinks someone is trying to kill him and another couple building love from a childhood friendship,
CHANCE OF A LIFETIME
won't let you put it down.
I wanted to write a deep love story about two people who had been friends in childhood and lost each other one night because of an attack. She was hurt and he felt guilty for not being there to help. When Emily Tomlinson sees Tannon Parker ten years later, they don't know how to mend the fences to find one another again. I wanted to write a very tender love story about an attraction far deeper than physical, a love that went all the way to their hearts.
While they are getting to know one another, they're also dealing with problems in the library that she runs. The place is suddenly infested with want-to-be writers meeting upstairs.
If you are looking for a book that will let you step out of daily life into a world of mystery, laughs and falling in love, you'll enjoy CHANCE OF A LIFETIME.
So, come along with me to Harmony.
With a degree in Family Studies, Thomas is a marriage and family counselor by education, a background that enables her to write about family dynamics. Honored in 2002 as a Distinguished Alumni by Texas Tech University in Lubbock, Thomas enjoys interacting with students on the West Texas A & M University campus, where she currently serves as Writer In Residence.
"My door is usually open to students all morning," explains Thomas, who talks to the classes at the University and on other campuses during her many speaking engagements when not writing in her spacious office in WTAMU's Cornette Library. "They come by to visit and ask questions about being a writer. When I was a child, being a writer wasn't an option. All the people I knew had regular jobs. I'm hoping that students will see that being a writer is a possibility. This is particularly important in these days when programs in the arts are being cut in the public schools."
Commenting on her contribution to the arts, Thomas said, "When I was teaching classes full time, I thought I was making the world a better place. Now I think of a teacher, or nurse, or mother settling back and relaxing with one of my books. I want to take her away on an adventure that will entertain her. Maybe, in a small way, I'm still making the world a better place."
While the author toured the country speaking to Desk and Derrick clubs about her 2003 novel, THE WIDOWS OF WICHITA COUNTY, the members of various chapters formed a Jodi Thomas Fan Club. The group enthusiastically promotes her novels and public appearances and even volunteers to provide drivers for her out-of-town engagements.
When not working on a novel or inspiring students to pursue a writing career, Thomas enjoys traveling with her husband, Tom, renovating a historic home they bought in Amarillo, and "checking up" on their two grown sons.
Share this post!