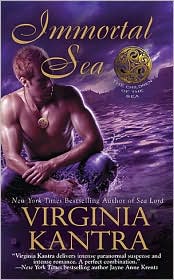 Casee's review of Immortal Sea (Children of the Sea, Book 4) by Virginia Kantra.

From a chance encounter…

Morgan of the finfolk does not normally waste his attention on humankind, but while in Copenhagen, he meets a young woman who captures his interest-if only for a night. On sojourn in Europe before starting medical school, Elizabeth is intelligent, attractive…and eager for a little adventure...

A memory kept…

Sixteen years later, Dr. Elizabeth Rodriguez is called to the island of World's End to become its only doctor. There, she hopes to reconnect with her troubled son Zack, who has become withdrawn since her husband's death. She has no idea that World's End will also reconnect her with Morgan…

And a future about to be born…

From the moment Morgan lays his eyes on young Zack, he suspects the boy is finfolk-and his own son. As he and Liz clash over Zack's fate, they discover their desire is as strong as ever. But proud Morgan's loyalty has always been the sea, while Liz's responsibilities lie on land. Will their reignited passion be enough to bring them together? Or will their secrets force them apart?
It's difficult to like the children of the sea characters at the beginning of the books. They have a very obvious disdain for humans. In fact some of them look at humans as so far beneath them that they don't even consider them as living beings with thoughts and feelings. All the things that go along with being human. Morgan is one such finfolk. I started this book a few months ago, but I disliked Morgan so intensely that I had to put it down. I believe it was because I glommed the series and was on Morgan overload. Morgan is a lot to handle and is best taken one dose—or book—at a time.
Being on World's End is hardly something that Morgan wants. On orders from his price, Morgan is there to protect the island from further demon attack. He is stunned to find Elizabeth, a girl that he once spent the night with sixteen years ago. He's shocked when he discovers that their one night together resulted in a child—a child that Morgan can clearly tell is finfolk. Now he has to take his son back to Sanctuary to train him in the ways of children of the sea and, oh yeah, he'll never see his mom again.
Elizabeth brings her children to World's End hoping to start over. Her son Zack hasn't been the same since the death of his father and Elizabeth hopes that starting a new life in World's End will breathe new life into their family. The very last person she expects to see there is Zack's biological father. She certainly doesn't expect him to recognize her. Recognize her he does and he also recognizes Zack.
This is where it really got interesting. Elizabeth is fiercely protective of both her children. She doesn't want Morgan coming into Zack's life if he's just going to leave. She has no clue that Morgan does plan to leave, but plans on taking Zack with him. Meanwhile, Zack is struggling because he knows that he's different. He thinks he's a freak. What kind of person can shapeshift into a shark? The only respite Zack has is the sea and he goes there often. That is where he literally stirs up trouble.
Morgan was interesting because after over a thousand years of living, he is feeling true human emotion. Caring about a person is not something that he is comfortable with nor is he prepared for the turmoil it brings. It was his honest bewilderment to his feelings about Elizabeth that finally endeared Morgan to me.
Originally he had no plans to reveal himself to Elizabeth. Like the arrogant ass that he is, he plans to take Zack and go. Eventually he does tell Elizabeth and it was this statement that really made Morgan my favorite hero in this series.
"Because of you," Morgan said with brutal honesty. "Because of my feelings for you. As soon as I knew the boy was finfolk, I would have taken him and gone. For no other woman--for no other force on earth--would I have stayed."
Immortal Sea was my favorite book in the series. Lucky for you, you're going to get a chance to win a copy today!

4.25 out of 5.
This book is available from Berkley. You can buy it
here
or
here
in e-format.
The series:
Share this post!